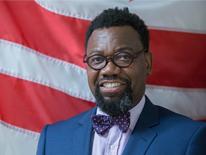 Reverend Thomas L. Bowen is the Director of the Office of Religious Affairs in the Executive Office of the Mayor and the Interim Director of the Mayor's Office on African American Affairs and the Commission on Fathers, Men and Boys. He serves as a liaison to the faith community in the District of Columbia. He also provides support to the Mayor's Interfaith Council.
In this role he works with the faith community to determine their concerns, needs and programs. He works to develop collaboration between government and the faith community. He also attempts to foster government action to enhance and increase program efficiency and effectiveness of the faith community.
Reverend Bowen has been a contributing panelist for the Washington Post's On Faith/Local Section and a contributor to the Huffington Post's Black Voices. He has served as the Religion Editor for the Washington Informer.
Reverend Bowen is a founding member of the Jamestown Project, an action-oriented think tank, and a member of the African American Ministers Leadership Council of People for the American Way. He has served on the Board of Trustees for the Public Defender Service for the District of Columbia and the Centennial Celebration Task Force for the American Baptist Churches, Inc.
Reverend Bowen has held several positions in the advocacy and nonprofit communities including Senior Religious Advocate for the Children's Defense Fund and Senior Field Organizer for its Black Community Crusade for Children; Executive Director of the Midnight Basketball Leagues of Lorain County, Inc.; Project Coordinator for the Urban Child Research Center at Cleveland State University and Assistant Director of the Upward Bound Program at Oberlin College.
Reverend Bowen has received numerous awards and recognitions, including a Certificate of Special Congressional Recognition from US Senator Sherrod Brown (D-OH), a Proclamation for Outstanding Achievement from the Ohio House of Representatives. Ebony Magazine once named him one of the "50 Leaders of Tomorrow."
Reverend Bowen is a graduate of Morehouse College, where he received a Bachelor of Arts degree in history. While at Morehouse, he was a Ford Foundation Scholar and president of the NAACP. He received his ministerial and theological training from The Divinity School at the University of Chicago. He was ordained into the Gospel ministry at the Mount Zion Baptist Church of Oberlin, Ohio.
Reverend Bowen is also the Earl L. Harrison Minister of Social Justice & Community Outreach at the historic Shiloh Baptist Church of Washington and has faithfully served that congregation as a member of its ministerial team since July 2002.